Back in 2007 I made my first trip to India. It was a business trip to visit customers of the company I was working for at the time. That was interesting enough, but what was utterly fascinating was the real-time, eye-popping life experience I gained at the same time.
A little bit about India
India is one the world's largest and fastest growing economies, boasting GDP growth rates of over 9% in 2007, when I made my first visit, and nearly 7% in 2011. The country has made speedy progress over the last decade or so and the brakes don't look like coming on any time soon.
It is well known that the software, technology and communications industries are important in India. Construction and infrastructure development projects are also helping drive the growth and modernisation of the nation. Since the turn of the millennium, large Government-backed programmes have been launched to strengthen the country's road and railway networks, along with improving ports, airports and India's power generation capability. Rising personal wealth, particularly in the upper and middle classes, is helping fuel the residential and commercial building market.
In many areas of the business world India is a confident and cheerfully aggressive force of nature. The country is home to some truly massive companies that seem ready for regional and possibly global expansion.
It was into this cauldron of hyper-activity that I touched down for my first whirlwind week of sub-continental exploration. During that brief stay in 2007 I visited the four corners of India and met a remarkable cross section of people.
Business first
My first jaunt took in visits to large construction and engineering companies in Mumbai and Pune, a refractory plant in Belpahar, a sand manufacturer in Hyderabad, and the Howrah train station in Kolkata.
In Mumbai, my first port of call, I stopped by the headquarters of Hindustan Construction Company (HCC), which has been building large and complex structures for more than 80 years and is now one of the largest private sector construction companies in India.
HCC's headquarters is a modern five-story office block in a compound that provides an oasis of calm in the otherwise fierce whirlwind of activity that is Mumbai. From there the company oversees a project portfolio consisting of high value ventures into areas such as transportation, power, marine projects, oil and gas pipeline constructions, irrigation and water supply, utilities and urban infrastructure.
It was just starting to dawn on me how large and all-encompassing some of these Indian companies are. I don't really know what I was expecting, but for some reason it wasn't that.
The thing that had me really nervous, though, was turning up in Mumbai minus my bag. Basically I only had the clothes I was wearing, as I hadn't packed any emergencies in my carry-on luggage. You only make that mistake once in your life, but that wasn't a reassuring thought at the time, given the journey I had ahead of me. Having never been to India before, and not really knowing what was on the cards, I was positively crapping myself. And, given the stories I'd been told in the lead-up, surprisingly it wasn't thanks to the food.
Thankfully things worked out well. My Indian traveling companion got hold of the airline, on numerous occasions, and worked it out so that my bag would meet up with our Pune to Mumbai to Kolkata flight a couple of days later. In the meantime, I spent some of the rupees I'd been given by the airline on a new shirt, undies and socks at a mall any western city would have been proud of. We even had time to have a wee at Sachin Tendulkar's restaurant.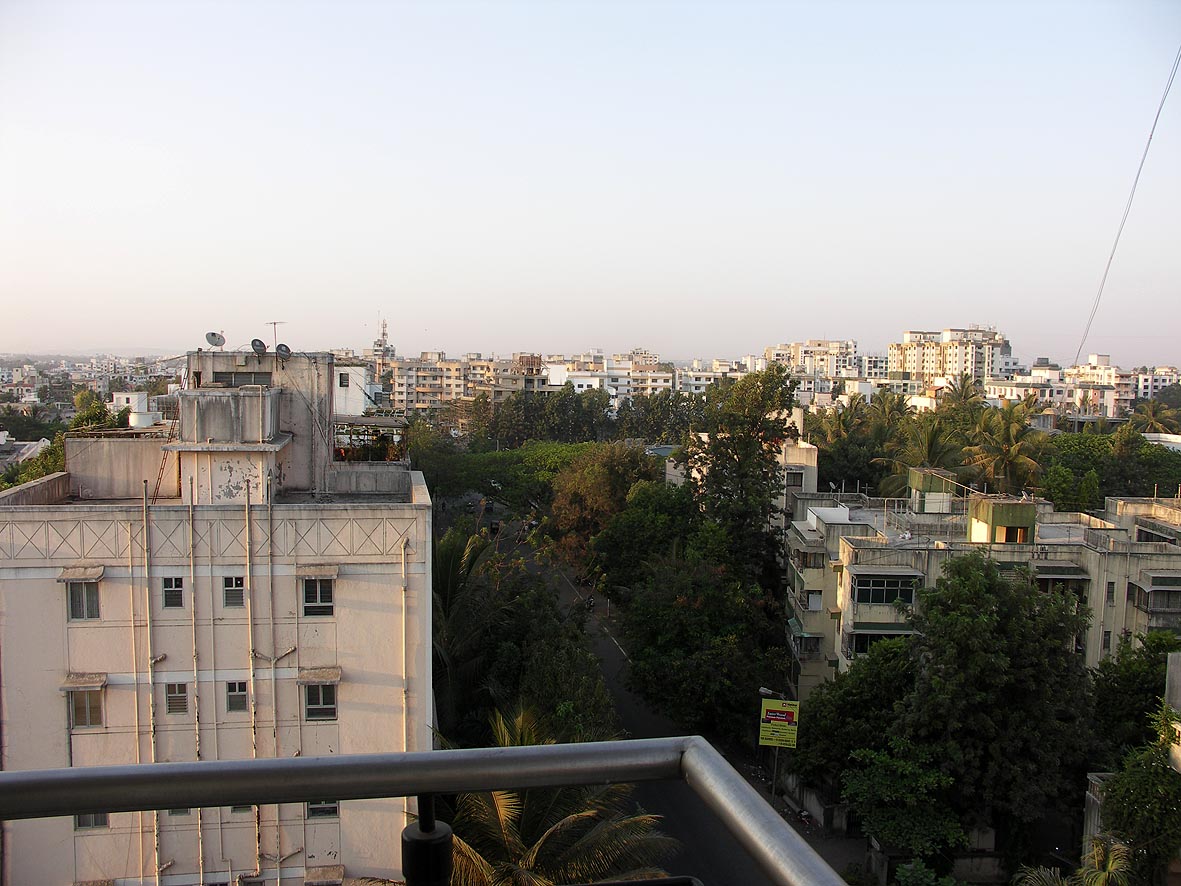 Welcome to Pune
Pune, India's seventh largest city, and known for its software and IT industry, is an easy two hour drive south-east of Mumbai. I arrived there by car taking the Mumbai-Pune highway. The peaceful highway just seems to end somewhere near the edge of town. We turned left onto a local road and before long were surrounded by people, car horns, auto rickshaws and head-splitting, edgy vitality.
I was in Pune to visit the site of the Shirke Group, a multi-disciplinary civil, mechanical and electrical engineering consortium with global technology tie-ups. Their facility is a true giant, housing a diverse range of products. Nine integrated plants and more than 12,000 people are spread out over a 63-acre parcel of land in the Mundwa suburb of the city.
The journey across town from the hotel is an interesting one. Like many Indian cities, Pune is a rapidly modernising construction site. Buildings, roads and bridges are being thrown up all over the place. Ramshackle in places and remarkably pristine in others, Pune is a spirited and bustling place.
Arriving at Shirke's facility you are transported into an exclusive hive of activity. It is another community altogether. My affable host at the Shirke site was Mr CN Nandurdikar, General Manager Construction Equipment and Machinery Division. I met Mr Nandurdikar for dinner the evening before visiting the Shirke complex. He was lively, entertaining and interesting company.
Shirke's factory is so large that you need a car to comfortably get around it. From Mr Nandurdikar's office, following a delightful, home prepared lunch of traditional Indian food, our first port of call was the office of Mr BG Shirke himself. Mr Shirke is the charismatic, vivacious, inspirational founder and chairman of the company. His lavish office is the beating heart of his company's growing body of work. Mr Shirke is nearly 90 years of age yet carries himself like a man less than half that age.
Our final port of call was the company's cricket academy. A perfectly manicured playing area was covered with children and coaches when we arrived. The New Zealand national cricket team used these facilities to train at during a tour to India several years before. I was tempted to grab a bat and have a hit but, quite wisely, thought better of it. Being made to look foolish by someone barely reaching waist height is not the sort of thing that leaves a good impression. Sitting next to the cricket oval is a nondescript shed housing the Shirke Group's helicopter and Mr Shirke's collection of vintage Mercedes Benz cars.
After that I was whisked away to continue my Indian adventure. Little did I know what was in store for me over the next two days.
In the back and beyond
Belpahar is not an easy place to find. The town is well off the beaten track: a forty-minute drive from Jharsuguda, which in turn is a more than ten hour, 500km, overnight train journey west of Kolkata. Add to that a couple of flights to get me and my traveling companion from Pune to Kolkata, via Mumbai, and it would be fair say I was knackered by the time we finally arrived at the headquarters of Tata Refractories Ltd. But at least my bag turned up with me in Kolkata.
The train was hours late getting into Jharsuguda meaning we missed our appointed mid-morning meeting time. It had only taken me a day in India, however, to appreciate that delays are a matter of course. I learnt pretty quickly to just go with the flow. The bonus was that when we arrived on site we were treated to a substantial multi-course lunch. I just had to try everything so we were there for a while. Eating hot spicy food in a hot spicy country was as much of a test of my constitution as the train ride, although substantially more pleasant!
The Tata Group
I was in Belpahar to visit Tata Refractories' plant. The Tata Group is one of India's biggest corporations, the equivalent of about 2.8 per cent of the country's GDP, and employs 246,000 people. It comprises 96 operating companies in seven business sectors: information systems and communications; engineering; materials; services; energy; consumer products; and chemicals.
Jamsetji Tata founded the Group in the mid-19th century, a period when India had just set out on the road to gaining independence from British rule and it now has operations in more than 54 countries across six continents, and its companies export products and services to 120 nations.
Consequently, Jamsetji Tata and those who followed him associated business opportunities with the objective of nation building. Tata and his successors were Richard Branson-type entrepreneurs in India before the concept, let alone the reality, of Branson and his Virgin empire was even considered.
Driving from the reception building to the factory at the Belpahar plant we passed what initially appeared to be a curiosity. A distinguished looking statue of a gentleman clad in 19th Century garb rose out of the middle of a round-a-bout. I was later to learn this was a representation of Jamsetji Tata, the founder of the company and a person revered in much the same way as a saint would be in many other parts of the world. This was a surprise because where I come from business leaders are not usually the focus of this type of admiration.
Before long we were back in the taxi and on our way to the train station, via the hotel for a shower and a change of clothes. I had another overnight train journey to look forward to, but thankfully this time we had a first class sleeper cabin booked. My head hit the pillow and I didn't wake up until we reached the outskirts of Kolkata, ten hours later.
My Indian article is too long for one post, so here's part two…